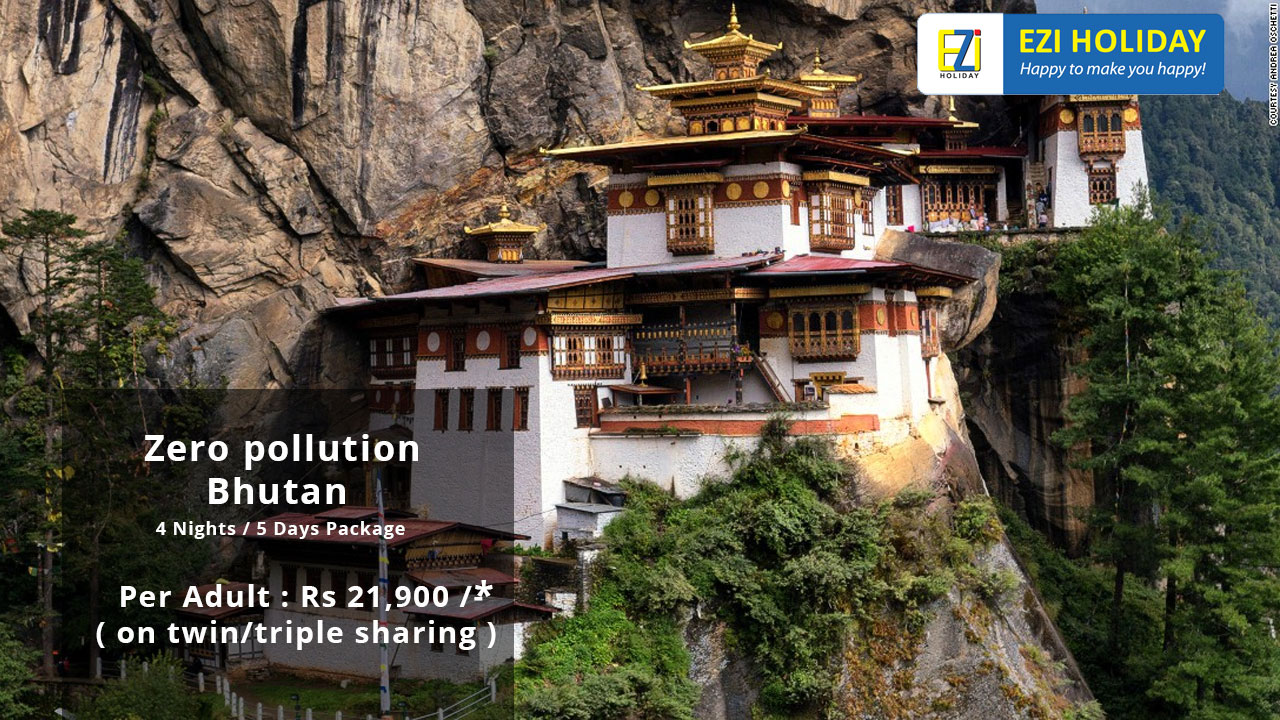 Day 1 :
Welcome to Bhutan, Land of Thunder Dagon. Your journey begins flying on Druk Air or Bhutan Airline and arriving Paro valley before noon. Try and get the left hand seat for better view of Himalayas). Descending into Paro Valley is an awe- inspiring beginning to an adventure of a lifetime with its transparent purity of the air and its absorbing serenity. Paro retains its bucolic nature in spite of the existence of development projects. Fields of green or brown covers most of the valley floor while hamlets and isolated farms dot the landscape. At Paro International Airport, you will be greeted by your guide on exiting the arrival hall. You will take a leisurely drive for 2 hours towards the Capital of Bhutan, Thimphu. Thimphu is situated in a large valley traversed by the Wangchuk River and overshadowed by high peaks.En-route you will view Tachogang monastery, "the temple of excellent horse" built by ThangthongGyalpo (Iron chain builder in Bhutan) before reaching to Chunzom (confluence). You will visit the Iron Chain Bridge which is one of the most visible ancient craft work in the middle Ages. You will continue our drive passing through several villages. Upon reaching Thimphu, you will be taken to the hotel located in the heart of the Thimphu City, which offers easy access to the commercial establishment You will check in at the hotel and have some lunch.Afternoon you will visit some cultural site and walk through the main street of Thimphu. Evening at leisure. Overnight:Hotel
Day 2 :
Today you will participate in a wide variety of interesting activities, which represent many diverse aspects of Bhutanese culture. Drive to visit KuenselKuenselPhodrang, the Buddha Statue, 169ft, symbolising indestructibility and one of the most religious monuments built in recent times. The view of Thimphu valley from the Kuenselphodrang is spectacular. Visit National MemeoralChorten, built in honour of third King of Bhutan, Jigme Dorji Wangchuck. Elderly devotees flock throughout the day to circumambulate and turn the prayer wheels. Drive to visit Art and Craft Institute, a vocational training Institute for students learning some of the 13 arts for preserving and producing skilled man power. Lunch at one of the popular restaurant in Thimphu.Afternoon you will drive to visit Takin enclosure to see the National Animal of Bhutan. Drive to visit the Ludrong Botanical Garden which provides the perfect opportunity for the visitors to generate a greater sense of love and appreciation of Bhutan's unique natural and spiritual beauty. Walk to visit TashichoDzong, the main secretariat which houses the summer residence of the central monk body and main seat of government. Its majestic architecture in finely balanced proportions is complemented by artistic decorations and paintings. Drive back to your hotel and leisure time to walk through main street. Overnight:Hotel
Day 3 :
Morning, you will depart to Paro and drive takes less than two hours. On arrival you will visit a local Farmhouse to experience the Bhutanese way of living and try some Bhutanese tea and local wine Ara. Drive for lunch and on the way, drive to visit RinpungDzong (Fortress on a heap of Jewels), which houses the administrative center of Paro valley and religious institute for monks. After visiting the Dzong,you will take the route that leads across Paro Chhu via a traditional covered bridge Nymezampa and pass several chorten towards the Paro town. Before reaching to town, you will have the opportunity to witness the archery; the national sport of Bhutan followed a short stroll in Paro town. Drive back to your hotel and evening at leisure. Overnight:Hotel
Day 4 :
Today it will be a very special day, with an excursion to visit the spectacular Taktsang (Tiger Nest) Monastery .After the breakfast, you will take a short drive to the north of Paro Valley to Ramthangkha, from where you will start your hike to the Taktsang monastery (Tiger's Nest). The trial climbs through beautiful pine forest, trees festooned with Spanish moss and an occasional grove of fluttering prayers flags. Legend has it that Guru Rimpoche, founder of Buddhism flew from Eastern Bhutan on a tigger, bringing Buddhist teachings and meditated here in this cliff. This is one of the most venerated and sacred of all Buddhist sight around the world. After visiting the monastery and offering our prayers, you will walk back to Taktsang cafeteria for lunch. Afternoon you will walk down to base and drive back to your hotel. Drive back to your hotel Overnight:Hotel
Day 5 :
After breakfast check out from the resort and transfer to Paro Airport .
HOTEL | BREAKFAST | TRANSFERS | SIGHTSEEING
*Term & Conditions Apply